| | |
| --- | --- |
| 2023-07-18 | |
Gold Cup Open Day Heads to Ayrshire to Celebrate the Logan Family
The Logan Family will open their gates to the public to celebrate their RABDF NMR Gold Cup win on Thursday 10 August.
Milking 280 pedigree Holstein cows on a housed system, the farm was announced winners of the competition, with their farming system "having it all" according to the judging panel. The enterprise is leading the way with its sustainability, the environment, maximising output from land, and optimising health and welfare.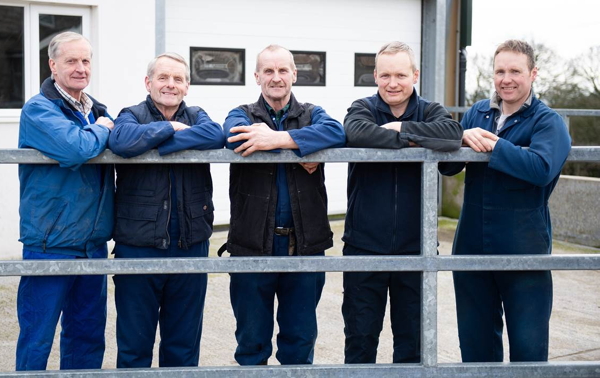 In addition to the high level of cow health and welfare at the farm, the Logans' house a 950kW hydro-electric scheme providing renewable electricity for the farm with surplus exported to the grid.
Using the cows' own slurry, with renewable generated electricity, they produce green bedding, used to deep bed cow cubicles. Waste bedding is returned to the slurry system so there is zero environmental impact.
They also house a 150kW woodchip biomass boiler which heats two houses and provides hot water for the dairy. Construction of a 3MW wind turbine is about to get underway with power being mainly exported with a farm connection to supply power if required.
Host farmer Alistair Logan says: "With the renewable projects we are a net exporter of electricity, this not only has a positive environmental impact but also a financial one with the cost of power."
Principal sponsor ADF Milking will welcome company founder, James Duke, to outline the importance of having the correct size liner for each individual cow to ensure cow comfort, fast milk let down, complete milk out and higher yields.
Mr Duke says it is essential to support events like the Gold Cup as these would not be possible without industry backing.
He continues: "Whilst we have a long association with the RABDF and many past Gold Cup winners, the most crucial element is the motivation from these competitions, how it highlights what can be achieved and provides inspiration to other dairy farmers. 
"All of the judging criteria for the Gold Cup award not only makes sound business sense, but also aligns with our ethos here at ADF," he concludes.
Talk stations, which will take place from 12noon, comprise of speakers who have been integral to the success of the enterprise. Included in these are World Wide Sires, CowManager and MBM Veterinary Group.
Covering the important concepts of breeding, including heifer rearing costs and longevity driven profit, Rhona McAlistair from World Wide Sires, will explain how profitability is driven by cows that are healthy, fertile, long-lived and productive, highlighting how cattle that lack genetic potential for health, fertility, longevity and production are unlikely to stay in the herd long enough to recoup their rearing costs.
Michael Fallon, farm clinical director, will look at the genetic evolution of the herd over time, incorporating the benefits of genomic testing via Clarifide Plus.
RABDF managing director Matthew Knight says: "We are really excited to be able to invite visitors to Holehouse to look around the Logans' progressive enterprise.
"Not only will there be plenty to see around the farm but lots of informative content from the array of talks that are lined up. With something for everyone we encourage dairy farmers to come along, have a look around, and see what 'take-homes' they can find to apply to their business."
Admission is free but visitors must pre-register for the event  where further information about the day can also be found.